Turkey is a huge country with a spectacular diversity of landscapes. Which, for the traveler, can be overwhelming: you do not know where to go, because it seems that you're not going to have enough time to visit everything. Following our philosophy of long-distance trekking and our desire to travel on somewhat less traveled trails, we opted to trek the Lycian Way and visit the Kaçkar mountains and try to climb its highest peak (3937 m). Of course, we also visited Istanbul, which is a city that we fell in love with, but whose visit we are not going to tell here.
The Lycian Way is a trail of about 540 km, which runs along the southern coast of the country, and is the result of the work of an English lady (we assume that she must have a crush on Turkey) called Kate Clow, who managed to give a common entity and a purpouse to the multitude of trails that already existed in the area. She concrete all this in the following guidebook…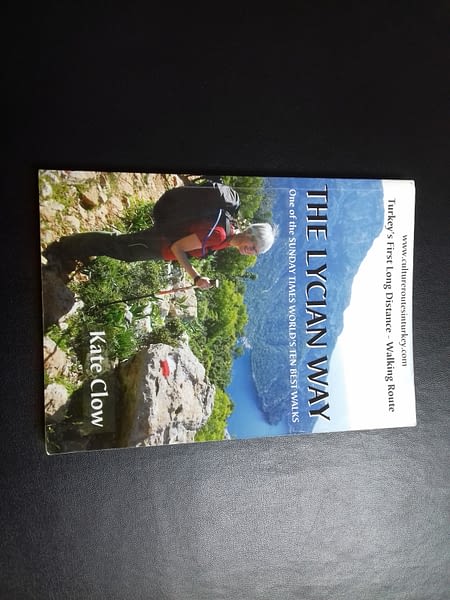 It is a coastal route, which wanders among the remains of the Lycian civilization that inhabited this piece of land while discovering spectacular landscapes. The official departure and arrival points are Fethiye and Antalya, and the most convenient way to get to the area is by a flight from Istanbul to Antalya, and once there, take a bus that leaves you where you want to start walking.
We traveled to Kumluca, with the idea of ​​sleeping there and the next morning join the route and start our trek; the problem was that we arrived late, already at night, and it cost us enormously to find the hotel we have booked. Soon we realized that people (except those directly related to tourism), although friendly, do not dominate English at all (and even less, Spanish), which made things complicated. Another difficulty that we found and that we had to take into account: fuel
(if you are going to take a flight and can not, therefore, take cartridges of gas). In none of the towns we passed through we managed to buy gas. We had to do all the cooking with a homemade alcohol stove (thank goodness I was cautious) and barbecue lighting gel, which was the only fuel we could buy.
The other great difficulty of the trip soon showed itself: the heat. We left very early to avoid the hours of more sun, but even doing so, as soon as it appears above the horizon it begins to warm up in an implacable way. Also, as you walk along the coast, there is a lot of humidity, so that you sweat profusely (p-r-o-f-u-s-e-l-y; words can't describe the amount of sweat…). Ass soon as I started walking, I already had my clothes completely damp, soggy. Which brings us to another problem: water. As you sweat so much, you have to drink a lot, but as there is not an abundance of water sources (although they are not lacking), every time we found one, we tried to carry as much as possible, meaning around 4 liters each (more weight :-o); the bad thing is that immediately it gets hot, which gives us as a result an unpleasant combination: heat, sweat, a heavy load to carry, and drinking hot water.
People smiled and greeted us when we met them on the way, very friendly, no doubt surprised to see two fools with huge backpacks sweating like a pig in a sauna, walking on their tracks in the middle of the summer. I remember an old man who, without speaking aword, gave us some very small, but very tasty (and fresh!) apples. The truth is that the views made the effort more bearable: small coves of white sand, turquoise waters, cliffs and islets… It was an easy path to follow, although not very well signposted. The afternoon progressed and we begun to think about where to camp. With luck, we soon found a suitable place, which although not too far from the road, was very close to a water source, something fundamental, as seen throughout the day. We set up camp, we washed (imagine us here, washing our bodies thanks to something like this, but very fast because huge mosquitoes harassed us, with the music of the Benny Hill Show in the background), we had dinner… we reviewed our day and we discussed what will come the next one... camp routine, you know. And finally, we get into the tent. That was like been inside an oven.
The heat of the day seemed to accumulate in the ground, and released at night. We open everything (except the mosquito net, we have already said that there were huge mosquitoes) and not a single breeze came in. No sleeping bag, no clothes, and still it was unbearably hot… Even at night we couldn't stop sweating !! A horrible night, really.
The following day was one of the stages with more scenic charm: it passes by the lighthouse of Gelidonia, which is a pretty nice place. The track continues following the coast, surrounded by forest, with the coves of turquoise waters and stone cliffs. The sun shined the same, we sweated the same or more than the previous day, but being the route farther from any city, we hardly met anyone, which was nice.
The stage ends in Adrasan, which is a small coastal town, with a beautiful and touristic beach (I mean… another type of tourism). We did not doubt for a second, we've already talk about it: we were going to sleep in an hotel. With A.C. But first, we took a couple of beers sitting on the beach. And there we finished deciding: although it was a shame, and in reality it was not the plan we had, we were not going to camp any more. Even if we had to carry the tent, the sleeping bag, the mats and the rest of the stuff, we could at least sleep. But it was also a question of security and logistics: we were drinking an immense amount of water, and we were not always going to be able to spend the night next to a water source, which was totally necessary. The second beer was already dissipating the hesitation, and it disappeared completely after dinner: grilled fish and peppers stuffed with rice, raisins and vegetables. The truth is that you eat well in Turkey.
The next day the stage started awfully. We have already said that Adrasan is a beach tourism site, but we did not realize its importance until the next day, when we started walking and had to cross the enormous amount of hotels and restaurants lined up following the beach. At the exit of the town is the detour to retake the path, but it was not well indicated, and there are many different dirtroads that lead to different coastal hotels. The fact is that we get distracted, and we walk for a long time in vain along a track that was not the right one. In the heat. That's when an abandoned dog started to follow us, although we tried to stop her (mostly to avoid her the 12 km and 700 m of height gain), she accompanied us all day. And we think it was not the first time she did it, because when we reached the highest point of the route, in which there was a kinda hidden well from which we needed to collect water, the dog found it; she went directly to the place and began to circle around so we could pour water for her. The well had clean water (which in fact was the only source of water for the whole stage), and a rather precarious system to collect it. Just in case, we carried our patented "bajomilestrellas.com water collection system", consisting of the antigravitygear bag of water shown earlier a 5 meters of dyneema cord. We did not need it, but it's something that we always carry since then, you never know…
The landscape of this stage was also different, because although you do not get too far from the coast, the route gets somewhat "inland", with a more rugged and rocky terrain and different flora. And at the end of the descent you will reach one of the highlights of the trekking: Olympos, the ruins of an ancient Lycian city, located at the mouth of a river, and quite nice and well preserved. The problem was that the place was crowded, because just past Olympos is Çirali, another beach tourism resort based on cabins and bungalows, where the stage of the day ended. A couple of comments: the dog, which we named Katy in honor of the author of the trekking guidebook, abandoned us for a group of hippies as soon as we reached Olympos; and it was not easy at all to find an accommodation willing to receive us. That was tremendously frustrating: we had to cross almost the entire place, asking again and again if there were avaliable rooms, and almost everyone looked at us from head to toe, saw us with our backpacks, sweaty and dirty as we were, and told us: no, not today. What was clearly a lie, because we were seeing available cabins. Finally, we found a humble place to spend the night and to rest.
The next day, again, the routine of having to walk a long time to leave civilization behind, the suffocating heat from very early, the body drenched in sweat, the weight of the extra water that we must carry… I have not said it until now, but with so much sweat, our feet were soaked all day, and we are convinced that it was because of that constant heat and humidity that we suffered severe blisters. Each one of us, in our respective minds, went on an internal struggle on the toughness of the trek, not by the path itself, or the terrain, or the elevation gain, but by all those circumstances of heat, humidity, sweat and pain due to terrible blisters. And each one answered himself: "do not give up, you have to go on, look at your partner enjoying this…". Until, throughout that day, we realised we were reaching the same forest, the same coves, the same cliffs… Well, they were not the same, but they all looked the same.
And commenting on that, the monotony of the landscape, we began to expose our doubts, which were the same, and we realised that over the next few days that monotony would not disappear, nor the heat, so we agreed to finish the trekking that day, and look for some alternative activity in which to occupy our time there. With relief, we continued, not without problems, because we arrived at an area where the signs disappeared, and none of the possible paths corresponded with the description of our guidebook. We chose to follow the most logical way, the one that was closest to the sea. With effort, we finally arrived at Tekirova, where we spent the night. The next day, we took a bus to Antalya, and in its old town we found a cozy little hotel where we recovered our sore feet, at the same time that we visited that nice city on the Turkish coast.
Conclusion: in case you have not realized yet, this is not a trekking to do during summer. Nor, in our opinion, deserves to make it complete. The landscapes become monotonous soon, and the only incentive becomes the Lycian ruins, which as far as we could see, are not spectacular either (except Olympos, but it does not justify the trekking on its own). The guidebook and signage of the route leave much to be desired, and in case of doubt or any problem, as it is impossible to get good, detailed maps of Turkey, you must rely on some gps track that you download and/or on your ability to navigate. If you are in the area and want to see this coast, or do some daytrips, you will not regret it, but truth to be told, we do not understand how this trekking appears in some online listings as one of the best in the world…
You can see the photos of this travel here.