Today we bring you a brief post, sharing our first impressions about this minimalist sandal; it's a huarache (that means it's suitable for running), but we will use it in our travels as multifunctional footwear: around camp, and on simple terrain and / or city.
Characteristics:
– Sole: Vibram® dunas Clivia sheet, 8mm thick
– Footbed: EGS (EnixGripSolution) – the area in contact with the foot is composed of a thin layer of synthetic material, resistant and non-slip that considerably improves foot traction on the sandal both on dry and wet environtments (according to the description of its website )
– ENIX® closure: Tubular 20mm PES high tensile belt, metallic clasp and black Velcro + black cord
– Approximate weight of 75 g
– Made by hand in Spain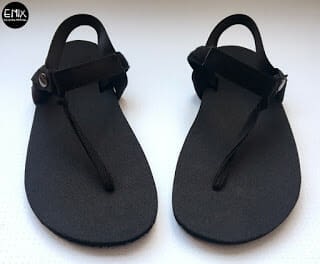 On paper are ideal for the intended use: very lightweight, hardly noticeable on the backpack; comfortable, they will allow the foot to relax and breathe after a day of walking; with enough traction, grip and comfort to use them to walk on simple terrain. Let's see if they deliver what they promised!
First impressions
Now, the comments after a few days of urban use … They are very light, which is nice, both when you're walking, and with the you-need-to-carry-it-in-the-backpack thing in mind. They have a good finish, and the materials give the feeling of being of great quality. The strength of the belt is to be tested, as the adjusting system forces it to remain in contact with the ground. It is better understood with an image: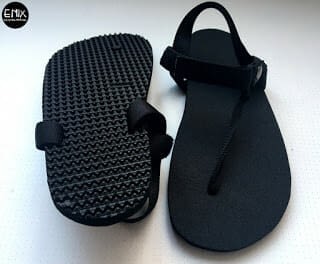 We will see in the long term how it behaves, but the impression is that it should hold up well, because the material gives a solid feeling, and in those points you should not exert much pressure or much friction against the ground.
The thickness of the sole makes you notice the irregularities of the terrain, but (without testing them on really abrupt terrain – which is not the use we intend to give) it isn't annoying. We can not comment on traction yet, but on paper, Vibram is synonymous with quality, they should behave well.
They are comfortable: the strip that goes between the fingers and the rest of them are soft and not noticeable at all. Being so flexible, it adapts perfectly to the foot. They're a little tricky to adjust , I'm still working on that, but I have them for a short time.
One more thing: aesthetically they look very nice.
Comments? Questions? Tell us!