We find interesting to share our firsthand thoughts of the gear we use, and analyze the performance it has in our travels. Mostly, because we have based ourselves on the reviews from others when it comes to choose the gear we buy.
We are not going to analyze everything, but based on the experiences we had in our first trip, we are commenting on some of the elements that, in our opinion, deserve to be highlighted:
Tent: vaude taurus II.
We swear for this tent. It's aesthetically beautiful, with a color suitable for stealth camping in most situations, and has proven quality. Totally waterproof, it's a three seasons tent, but the waterproofness on the floor is enough to pitch it on snow (although we have not seen forced to do so). Condensation is under control, although under inadequate circumstances it might be necessary to leave a wide opening in the door to improve ventilation. Spacious enougth for two "close friends" (there will be contact between you two at night if you move, it has a width of 95 cm in the feet, 130 in the head). Very sturdy frame, if it is correctly pitched, it can withstand whatever they throw at it. There's also some drawbacks: it weighs almost 3 k, occupies a lot of space on your backpack, it's less than 1 meter high, and the porch space is somewhat scarce (90 cm long, but with a triangular shape).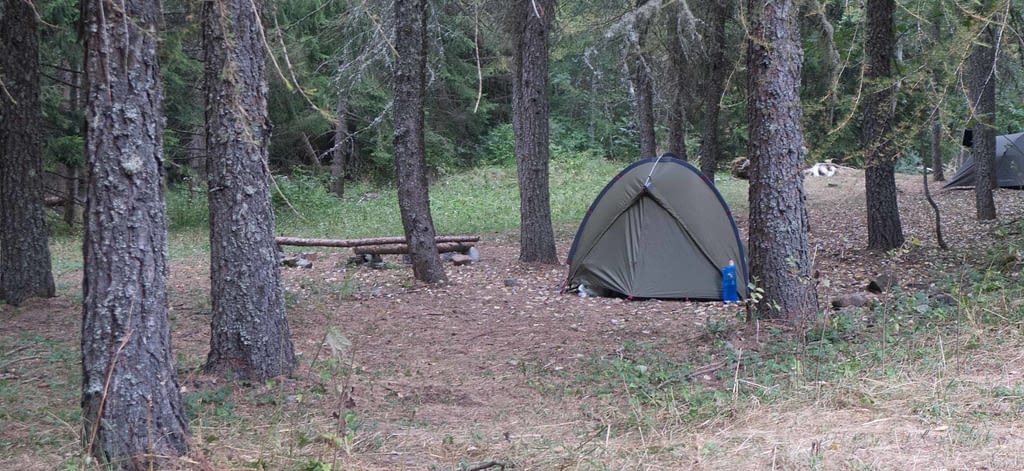 Mattress: trangoworld skin micro lite.
Not bad, but there are better options. We bought it because it seemed to have a reasonable weight / price ratio. However, it weighs more than stated on the web. It's supposed to be self-inflating, but you'd better be seatted to wait for it (although we believe that's an endemic fail of this type of mats). However, the worst thing is that it's pricked very easily. In this first trip, one of the two endured well, but the other began to show problems soon enough. It may have been bad luck (only 50% went wrong…)
Shoes: salomon xa comp 5.
The brand is state of the art in trail runnig shoes… That means they're comfortable from minute 0. Extremely well ventilated. For easy terrain they're great, but the soles wear out too soon, and in more rocky ground, especially if there is loose rocks or scree, we ask for more stiffness. Although on this first trip we hardly noticed that …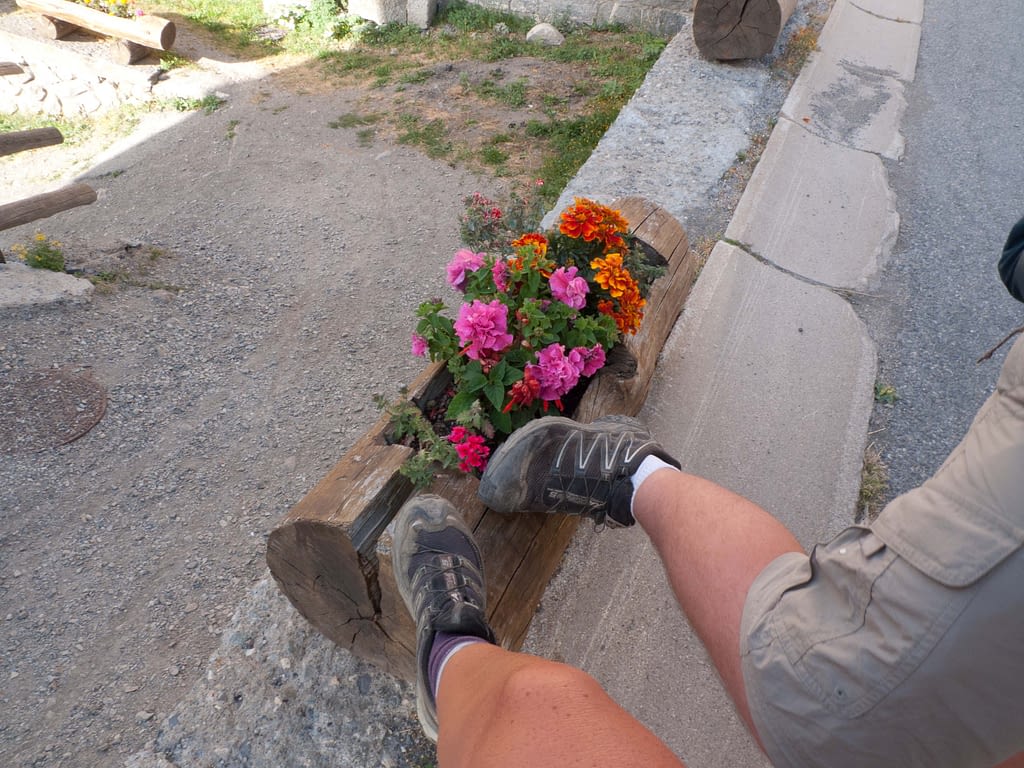 Pot: optimus terra weekend.
Good materials, reasonable weight. It has a heat diffuser on the bottom that, besides adding volume, makes it better to cook, with a more stable heat distribution. However, to boil some water (which is the only thing we do) that doesn't make such an improvement. The lid can be used (in theory) as a small frying pan. We've always made jokes about using it to fry quail eggs for breakfast, but we've never actually done it. We do not know whether it sticks or not.
Tableware: orikasso set.
A set of folding utensils: easy to carry (they're flat), easy to clean, and lightweight. It rocks! Includes dish (we have never used it), bowl and cup. It's a little tricky to fold in the correct way, but once you learn it, it's piece of cake. We've been using it ever since, it's a must.
Backpacks: mammut heron / hera.
That was a risky bet, because we ordered them without having tried them on (and that's a thing that everyone, including us, recommend NOT to do: you must try a backpack before buying it !!!). However, we opted for a brand of recognized prestige, we made a comprehensive online research about them and, as they have torso length regulation sistem, there were room for some adjustment; at the end of the day, maybe with some luck, they made it a wonderful purchase. They are not the lightest on the market (not even close) but they are super comfortable, they distribute the weight very well, they are resistant, very versatile, and have many interesting details (removable lid, retractable bottle pocket, pocket in the lumbar belt, two differentiated compartiments, compatible with hydration system … they have everything!). The only drawback is the weight, but considering how comfortable they are, and that we know they can carry all our kit easily, we don't think about changing them.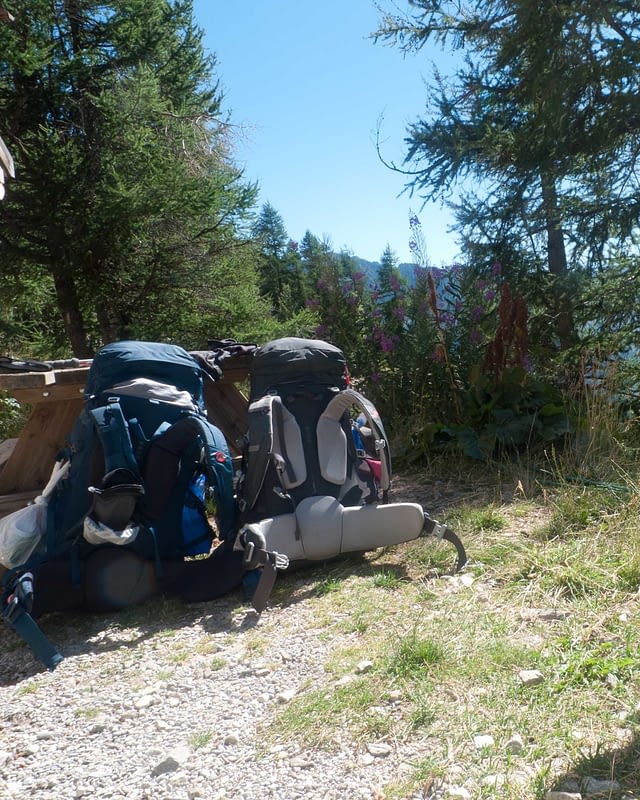 Windtops: rab nimbus windtop / montane lite speed.
Windtops are a wonderful invention. Period. We will discuss it in detail later, but all they have is advantages, and to use them is to love them. We wear them for the first time on this trip, and the rab has been a keeper since (although replacement is on the way). Despite been as new, it weighs around 220 g, and that weight, in this type of garments, is "excessive". They no longer sell it, unlike the montane one, which speaks of the quality and the success the latter had. We prefer them hooded, as they shelter more. They dry in minutes, and you can go wherever you want wearing them, from the valley to the highest peak, or even to a pub…
Caps: visor buff.
A neoprene visor attached to a coolmax fabric. Genious! They are lightweight, comfortable, foldable, can be stored in your pocket, absorb the sweat, if you soak them and put them on, they refresh you for a long time, they don't catch smells… ours are even reversible: double glamour! They come with us in every travel.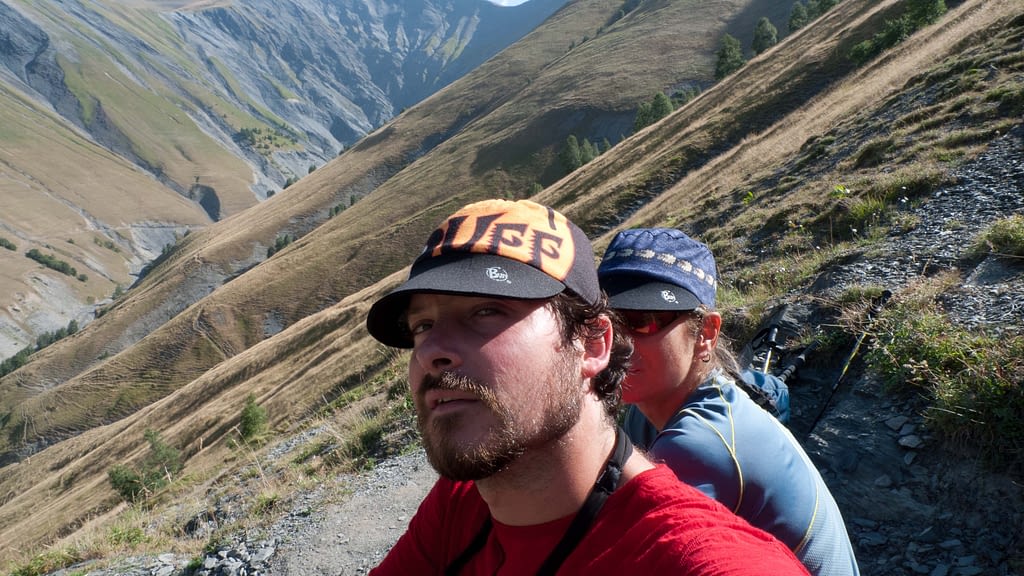 As we always say, english it's not our mother tongue. So don't be harsh with us…