(Coming from here)
Luckily, the resting day in Vallouise helped us to recover… because the next stage was one of the hardest: more than 1000 m of height gain, passing two cols of more than 2700m high (Col de l'Aup Martin, 2761 m; Pas de la Cavale, 2735 m) and walking through the most exposed area that we had been up to that time, with really strong winds that made Mony, because of the weight of the backpack, lose balance at times. But all that effort, as almost always, is worth, and we were rewarded by the wonderful views of the surrounding panorama. Once again, we descended, this time to the Refuge (shelter) Pré de la Chaumette, where we treated ourselves with a pair of well deserved beers, and then camped near the Refuge. As the weather was getting worse, we hesitated about staying in the Refuge, but finally we didn't do it. And… oh, boy! It got worse!! What a storm that night! Rain, wind, lightning and thunder, the complete package. Now we can laugh about it, but we at that moment, it scared the shit out of our pants! (Mony in her sleeping bag, showing only the eyes, asking "nothing bad is going to happen to us, right?"… and myself, with the same or even more fear, pretending to sound confident as I tried to remember what I had read about lightning bolts and where they are most likely to strike, while silently turning off the phone and putting it as far away from us as possible…). But this is what we look for when we make trips of this type: experiences. Five years have gone by, and I remember perfectly that night: where we pitched the tent, the surrounding landscape, the noises of frightened animals we heard during the night (frightened and frightening, because some of them came too close to the tent), how the tent lit up with every lightning … indelible memories to treasure, the kind you do not get lying on the beach, the kind that make you feel alive, and that the effort is worth it.
The next morning, the sky was completely clear, and it was nice to see, as the day progressed, how the sun warmed the ground, forming a dense fog that rose from the bottom of the valley to the top of the nearby mountains. It was also our first time for that…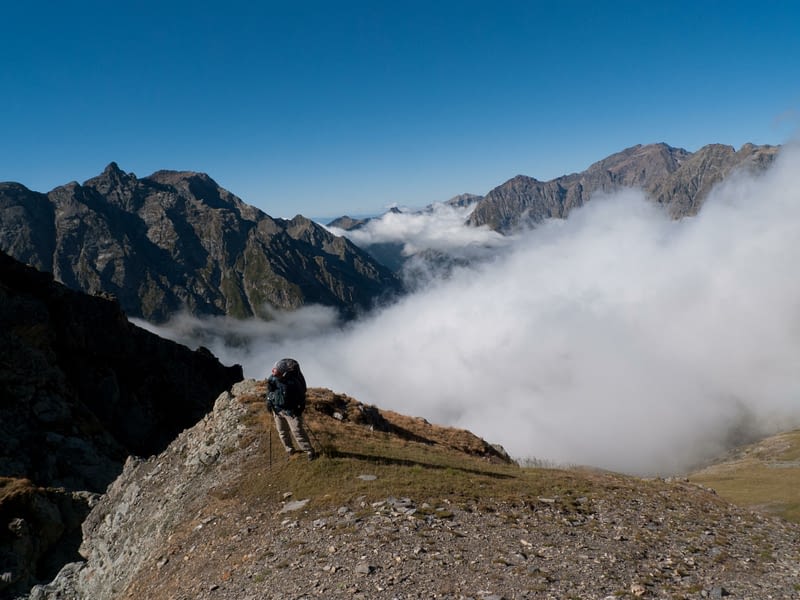 A few hours later we reached our third pass of that day (Col de Vallonpierre, 2607m, behind the Col de la Vallette -2668 m- and Col de Gouiran -2597 m-), with spectacular views of Le Sirac -3440 m- and the valley we were going towards.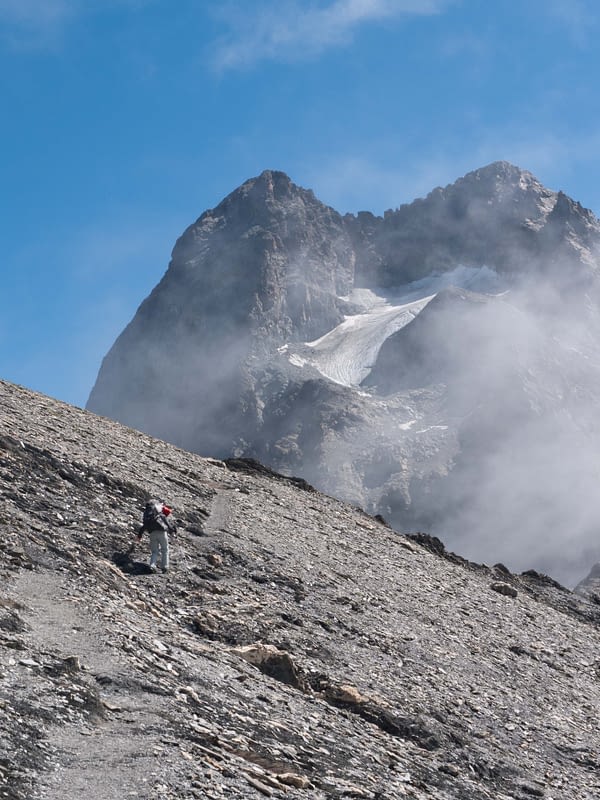 The descent became endless, after the accumulated fatigue, but once you arrive at the Refuge du Clot it becomes a pleasant (albeit long) walk along the river Valgaudemar. We set camp in the municipal campsite of Le Bourg: it is like a park next to the river, with toiletes and a common room where you can cook; a person comes to take the money early in the morning, and if you leave soon there is a mailbox where you can leave the money. We saw a couple of groups that left early without paying. Very bad!
The next day was a comfortable stage. First, to Villar-Loubière (1033 m), and from there, climb to the Refuge des Souffles (1975 m). Badly, since it was very hot, we had a hard time. We knew during the climb a pair of Frenchmen, father and son, who accompanied us until the end of our journey; quite friendly. Finally we arrived at the refuge, and discovered what they called the "formule douceur": a pack of mint tea, cake and shower that made our day. The memory of that blueberry pie is still mouthwatering. We asked where we could set up the tent, set up camp and spent a very pleasant afternoon and evening, with plenty of time to rest.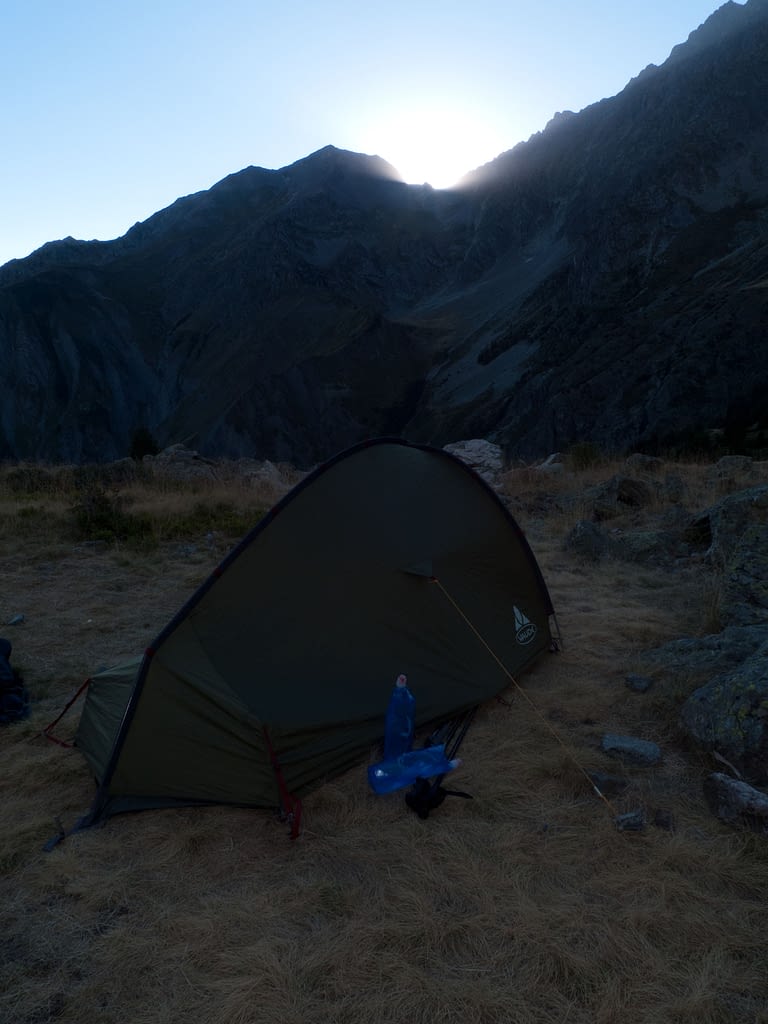 The next stage was short, a simple climb to Col de la Vaurze (2498 m) and descending towards Le Désert-en- Valjouffrey (1255 m), with wonderful views on the way down of the peak L'Olan (3564 m). In this town we discovered that our travel guide was not perfect, because in theory you could buy supplies (which we needed to finish the route) but in practice there was nowhere to do so. We were able to take care of the situation, on the one hand dining in a restaurant (meat again, after so much time…) and on the other, convincing the head of the hostel (in whose garden we sleep, and whose showers we use for a small fee) to sell us some bread, jam and fruit. With that and the few remaining provisions we had brought from home, we could survive to the end!
We set off for another day, climbing on the Col de la Côte Belle (2290 m) and descending to a bivouac area just before entering Valsenestre (1294 m), in a beautiful forest. During the descent there are very interesting rock formations. The French father and son set up camp next to us, once again, although they arrived quite late, because they were so loaded that we were going at a faster pace (the advantages of traveling light…). Unfortunately, the weather got worse, and before we went to sleep it had already started to rain. And it rained all night long, with a significant temperature drop. The next morning, it was still raining and we had no idea if it would improve. We decided to go and ask to the village, to see if they told us the weather forecast, which turned out to be not very hopeful. The stage planned for that day was going up to the Col de la Muzelle (2625 m) and the guide warned that there was some passage in which it was necessary to take extreme caution. We decided not to risk ourselves, and it proved to be the right decision, because we later discovered that in the area it had been snowing above 1600 m. So our path was far from planned: we went on foot by road to Entraigues, and from there we tried to catch a bus to Bourg d'Oisans, without getting it.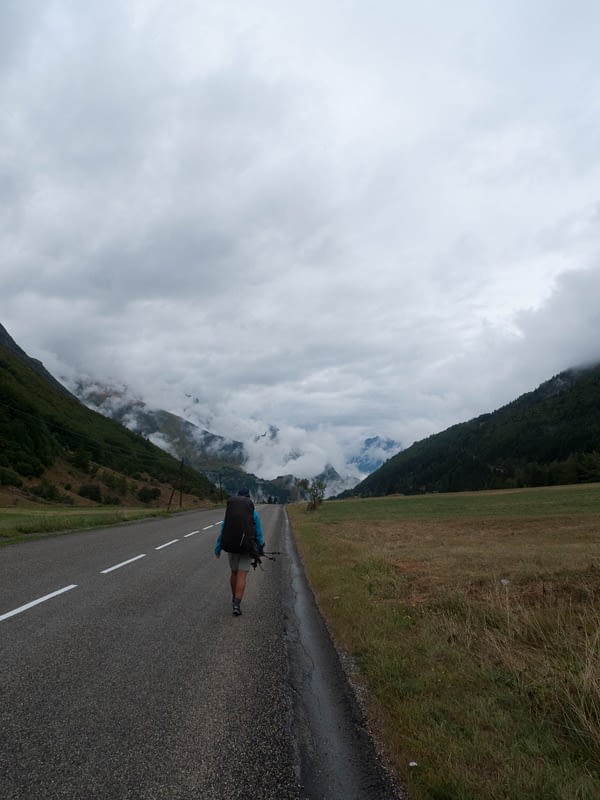 So we had to walk a little longer, in the rain, until a charitable soul picked us up and brought us to our final destination. There we discovered that weather was still miserable, and we chose to sleep in a hotel, to recover and rest after all these days of route. Walks around the village, beers, real food … and a scare: one night, just as we went to bed, we felt like someone was trying to get into our room. We jumped from the sheets and opened to see what was happening; the couple who tried to enter almost died of fright! At the hotel desk they had a mistake and told that our room was free.
All in all, and viewed in perspective, a memorable experience: we learned a lot, we saw beautiful places and we finally got this "illness" that forces us every year to repeat the experience, and to dream the rest of the time with two things: memories of the previous trip, and expectations of the next.
You can view all the photos of this travel here.
As we always say, english it's not our mother tongue. So don't be harsh with us…